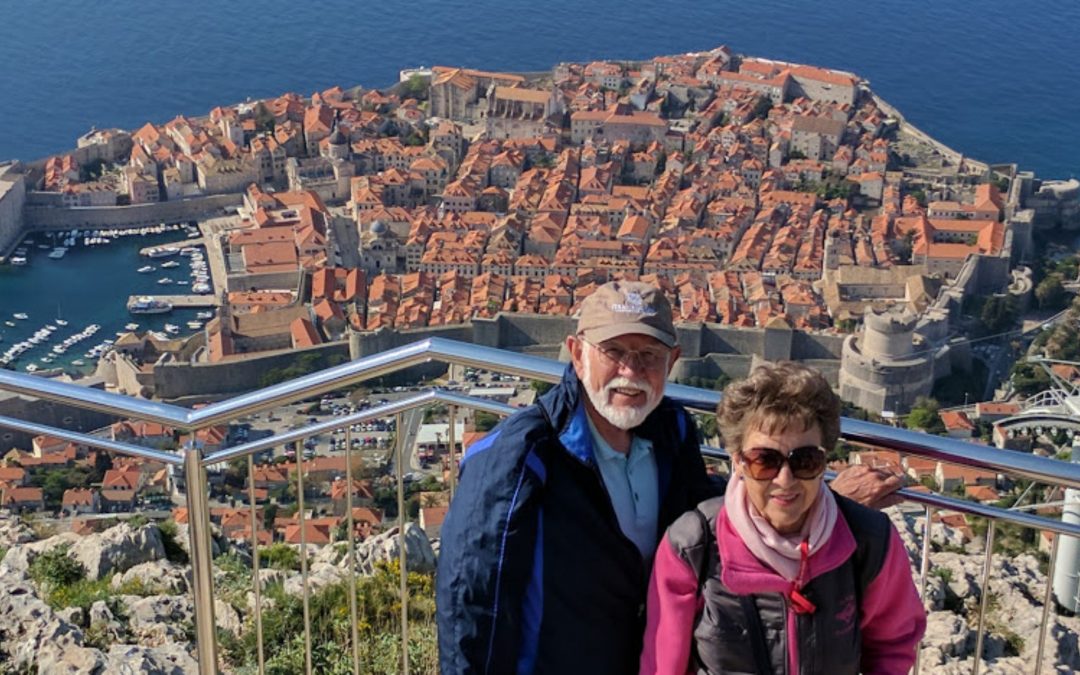 Chapter 4    What's On Your List
In Chapter 3 we talked about Making a List, or Lists…and this chapter will cover what you may want to include on that "list"….for the items on this list can "make or break" your travels. In addition to the "list"….there are some basics to include in your carry on, and I got the following from a travel blogger, Jamie.
When you think of the best parts travel, immersing yourself in new cultures and eating authentic food probably sound more appealing than flying to your destination. But, when you have the right things with you, your flight can be the ideal time to relax and dream of all the discovery to come! To make your time in the sky even more enjoyable, we reached out to Go Ahead staff to hear which products they always pack in their carry-on bags. Here are ten of their favorites to have with you the next time you take to the skies.
One thing is for sure: Digging for your passport and other travel documents isn't nearly as fun as digging into culture. That's why having a functional travel wallet on hand is a must—and why we love the colorful selection made by Zoppen. With well-organized pockets for your boarding pass, money, cell phone, and more, you're guaranteed to have everything you need at the ready. Plus, the wallet's RFID-blocking material prevents anyone from electronically nabbing ID info and credit card numbers, so you can stroll through busy terminals at ease (and in style!).
2
Water bottle
If you've ever arrived at an airport's security line just in time to remember you'll need to toss the full water bottle in your bag, this tip's for you. Next time you pack up your carry-on essentials, bring along an empty water bottle. You can fill it once you're through security instead of paying high airport prices for a bottle while waiting to board your flight. Then, you'll be able to refill it during your adventure (as long as it's safe to drink tap water at your destination). We love the Hydro Flask bottles, which are insulated to keep cold drinks cold and hot drinks hot, making it easier to stay hydrated while quenching your thirst for adventure.
3
A good read
Far-off places spring to life from the pages of a good book, and bringing a travel-centric tale along during your flight is sure to get you dreaming of all the adventure to come. The Go Ahead team is full of top travel book recommendations, but one of our staff favorites is The Geography of Bliss by Eric Weiner. In it, Weiner says there's a link between inspiring destinations and overall happiness… and we can't argue with that!
4
Noise-canceling headphones
If you'd rather catch up on a good flick while coasting through the sky, noise-canceling headphones are the way to go. While quite reprieves may be hard to come by on busy flights, these headphones help keep any outside noise (think: crying babies) at bay while you tune into your movie or music. Want an option that won't break the bank? Check out Sony's over-the-ear headphones, which are comfortable enough for long trips and fold up when you're ready to pack them away.
Portable charger
Enjoy passing the time on flights by watching movies on your tablet? A portable charger is the thing to bring. One of our top picks is the Jackery Bolt, a small-but-reliable external battery charger with built-in cords. It can provide a medium-sized smartphone with up to two full charges and give tablets and other electronics with USB ports more life. Simply plug the charger in overnight to give it some juice before you take off, and all you'll need to think about is filling up your wine glass on tour instead of running out of battery in the air.
6
Toiletry bag
Like a good travel wallet, a roomy toiletry bag is a must for wrangling all of your in-flight essentials, and one of our favorites is the Herschel Supply Co. Chapter Travel Kit. The good-looking material is sturdy, the interior is roomy, and you can simply pop your plastic gallon baggie full of 3-oz liquids inside. That way, you won't need to go rooting around in the bottom of your tote for lotion when your parched hands need some love mid-flight.
7
Antibacterial wipes
While meeting new people is one of the best parts of travel, picking up any germs (or sharing your own) undoubtedly dampen the adventure. That's why using antibacterial wipes is always a good idea, and Purell's travel packs are a good go-to. You can clean your hands, tray tables, and armrests in flight for a germ-free journey, and then tuck the package in a convenient place—the wipes aren't considered a liquid so you don't need to worry about keeping them in your gallon baggie.
8
Hand cream
An airplane cabin's dry, recycled air can do a number to your skin, so it's key to have a good moisturizing cream on hand (get it?). We love L'Occitane en Provence's creams, which hydrate without feeling greasy—and call to mind bright fragrances in the South of France. If you're hoping to sleep as you coast through the sky, opt for the lavender scent for an extra splash of relaxation.
9
Lip balm
A refreshing wake-up may be just what you need after snoozing mid-flight, and a minty lip balm should do the trick. One of our favorites is Smith's Rosebud Perfume Co. Minted Rose Lip Balm. It hydrates while providing an invigorating kick and a light tint, all in a compact, pretty tin.
For the trip itself, let's start with the obvious…your camera or camera phone, and the charger. Your IPad, if you use it for photos, and its charger. If you use your IPad for Kindle, then be sure you have the books you want to read downloaded while you have an internet service available. Sun glasses are always needed, and you might think about a case to keep them from breaking.  If you like to take notes of things you see, or memorable things that happen on the trip, take along a writing tablet or note pad, and a couple of pens that work. Maybe for you it is your daily Diary. Binoculars always come in handy, but get a good one. REI is where I got mine…very pleased and only $100. A small umbrella is always good to take, for even though you may be in an area where it is not suppose to rain, be prepared in case weather turns bad. Just keep it small. Sunscreen may be needed, so stick in a tube, but it has to be the right size. For the flight, air sickness or Jet Lag pills may work, and the same for sea sickness. Slippers for the long flights are often well used, as well as a neck brace and eye covers and ear plugs. Always good if you plan on sleeping on the flight. And, if you take medications, be sure you have them with you on the flight, not in your checked luggage.
We covered the correct clothes, coats, and hats previously….but also think about personal security. If you have a fanny pack or a pouch, be sure it is RFID, which protects valuables for potential theft of private information. If you carry a purse, be sure it is RFID and has a way to strap it to your body. Men's wallets should be kept in the front pocket of pants, not in the back pocket. If you use a back pack, they are great but can be accessed from the back, and you might want to look at one that you can carry in front of you, as well as on your back. If you are in a big crowded area, keep the pack in front of you with your arms around it. Speaking of personal security.…let's think about the credit card and cash that you carry. First, be sure and notify your credit card company that you will be traveling outside the US, and they will probably ask what countries, and the dates, so have this handy. And, be sure and mention that you may be using both a credit and debit card. Regarding US dollars, in cash, for the most part will not be accepted in stores. Use a credit or debit card. However, dollars can be used for hotel tips, etc. but again, not widely accepted. Local cash, which you can get at ATM's, which are very accessible, is the way to go. I do not recommend keeping much cash on you (maybe $100 converted to local currency) as you can use your debit card for almost all purchases. This process is much more common outside the US than in the US. We will talk  more about getting local currency once you arrive at the in-country airport.
Now that you have done your pre trip planning, your pre-trip packing, and have your list of items to take, you are ready to depart and head to the airport. Chapter 5 will deal with "The Airport"….from getting there to taking off….stay tuned.